As a successful hair & make-up artist Srey Neat is an inspiring role model for teenagers in Andong. In the past ten years, DARA Europe has been committed to supporting Srey Neat and her family to build a bright future.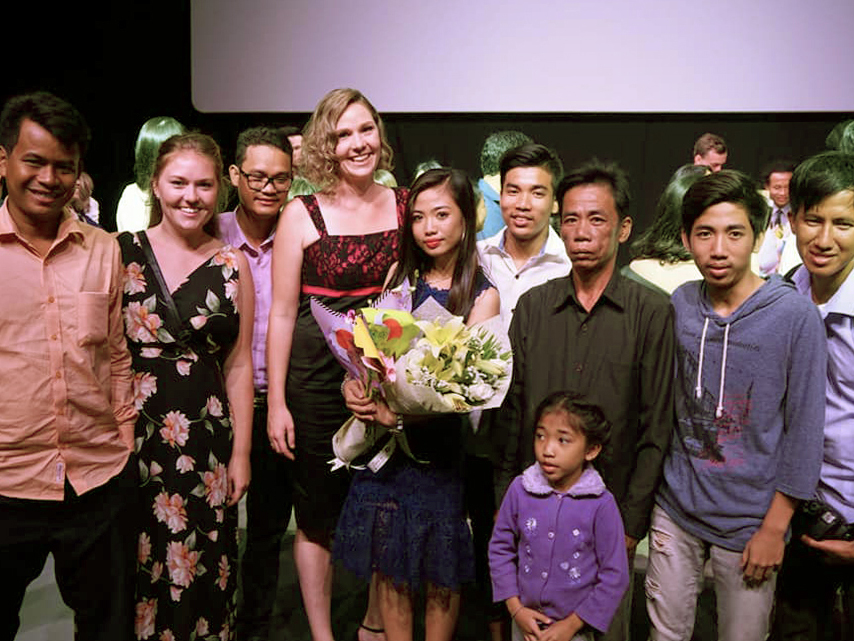 With a dazzling catwalk show, Srey Neat completed the prestigious Kate Korpi Salon's hair styling college. Among the audience were Srey Neat's proud family members. Tirza Josie Voss, founder of DARA Europe, walked the catwalk as one of the models.
The graduation ceremony, which took place in Phnom Penh in 2018, was a memorable moment, Tirza Josie says now. "I met Srey Neat and her family during my very first visits to Andong in 2009. Having faced considerable challenges as a young child, Srey Neat has worked with incredible power and energy to create a better future for her family. Her success is a great source of inspiration for the children that are growing up in the vulnerable neighborhoods of Andong." DARA Europe provides long-term support for children and families in the Phnom Penh suburb, focusing on high quality education for children and young adults in order to break the vicious circle of poverty.
Srey Neat is the eldest daughter in a family with four children. Her mother passed away in 2012, after the birth of the youngest daughter. Fighting a serious disease, her father was unable to adequately support his family. From 2012 till 2018, the four children were temporarily accommodated in the Stellar Child Care Organization (SCCO) shelter that Tirza Josie co-founded.
"Srey Neat was a teenager when she lived in our children's center", Tirza Josie remembers. "Having looked after her brothers and sister for years, she had missed a lot of school. DARA Europe enabled her to go to a good school. We also supported her career with extra tutoring and career development coaching.." Srey Neat: "I really wanted to become a hairdresser, and SCCO made my dream come true. The Kate Korpi Salon in Phnom Penh offers a high-quality vocational training. I successfully completed the training in two years, specializing in haircutting, hair coloring, and make-up."
The Kate Korpi Salon in Phnom Penh is a premier institute for hair, make-up, and skincare. Its clientele includes expats and celebrities, and the team works for individual clients as well as fashion events. Tirza Josie: "Srey Neat has become an expert in high-end hairstyling. In addition, the training has allowed her to perfect her English language skills. She has also grown as a person, and she has really become a star."
After her graduation, Srey Neat was hired as a hair stylist at the Kate Korpi Salon. In 2021 she moved to Leekaja Salon, another leading salon in Phnom Penh. "I love working as a hair stylist, and it's so great to be able to make a living and help out my family. With my salary, I contribute to the family household expenses. During the weekends, I help out my sister with her homework."
"Srey Neat is a sparkling role model for girls and women in Andong", Tirza Josie adds. "She has graduated from prestigious training, she works in a dynamic workplace, and she has excellent career prospects. She is independent, strong, energetic, and internationally oriented. But she is also strongly committed to her family. I'm convinced that her story will inspire others to build a bright future."
Every donation makes a difference for the future of families in Andong. Make a monthly or yearly donation, and feel free to contact us for details on special sponsorships.