This beautiful late summer is over and the first autumn days have announced themselves. In Cambodia, they are in the middle of the rainy season and October is in sight, the coldest month of the year.
News from Cambodia
Sport and school a bright future
In the Netherlands, the children have been to school for several weeks. Not all children are jumping every day to go back to school. Nevertheless, education is the basis for a bright future. Thanks to Tirza and SCCO, Aone has the opportunity to go to school every day
In the Netherlands, children go to kindergarten from the age of four, and this is even mandatory from the age of five.
In Cambodia, many children only attend public primary school from the age of 6. Children from disadvantaged communities, such as Andong, where parents sometimes have limited access to education or training, do not attend pre-primary education.
High impact of SCCO's "pre-primary education"
The importance and impact of reading; a source of hope and confidence.
In the Netherlands, we do everything we can to stimulate and enthuse the young generation to read. This is further stimulated by the national library, which offers free membership up to the age of 18.
Access to the library is also very important for the children of the partner organization SCCO.
Read here about the win-win situation of the weekend classes and the library.
News from the Netherlands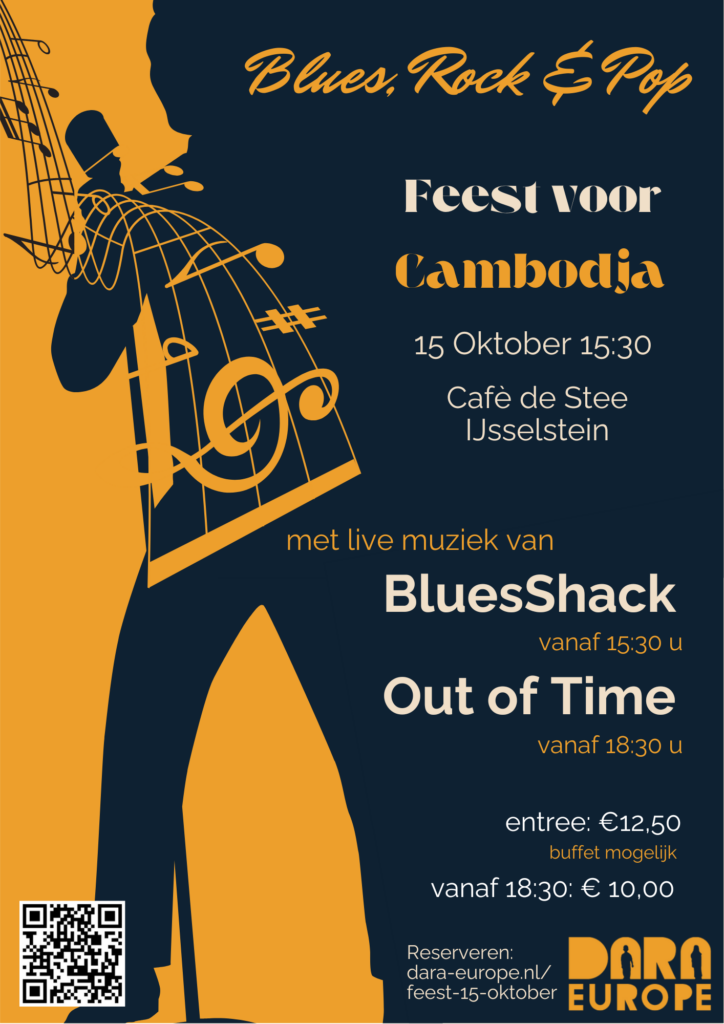 Blues, rock & pop party
Fancy a swinging party with Dara Europe as a charity? Then come to café De Stee in IJsselstein on Sunday 15 October for a blues, rock & pop for Cambodia! Enjoy the live music of the bands Blues Shack and Out of Time and at the same time support our foundation DARA Europe. For more information and registration.
International Day of Charity
International Charity Day ( 5 September .. ) is an initiative of the United Nations, which draws extra attention to a better world and the Sustainable Development Goals ( SDGs ).
It's a day to reflect on the commitment of volunteers and donors who are tirelessly committed to helping others. Fred shares his experiences as a team member of DARA Europe.
Do you also want to contribute? Make a donation or join our team!
Are you inspired? Donate now!